Lawson Fuses Installs New EV Charger
In his recent visit to Lawson Fuses site, Richard Dick used their newly installed EV charger, making this the third installation for Lucy Group UK sites, which includes Lucy Electric in Thame and Lucy Zodion in Sowerby Bridge.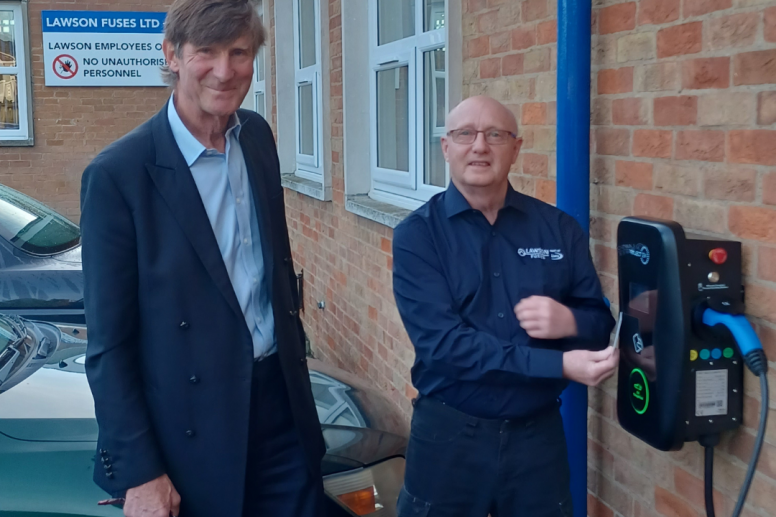 Our EV charging facilities reflect Lucy Group's contribution toward the United Nations Sustainable Development Goals (UN SDGs) framework. We actively prioritise 8 of the 17 SDGs while supporting the remaining 9, putting people and the planet at the heart of everything we do to achieve progress with a purpose.
United Nations SDGs
The following SDGs align with the EV installations in several of our sites across the county:
SDG 7 ensures access to affordable, reliable, sustainable, and modern energy for all. Lucy Group contributes to SDG 7 by focusing on efficiency, using renewables, and implementing an energy transition strategy that supports our ambitions for lower carbon emissions. We develop cost-effective products that are energy efficient and improve energy delivery to the grid from renewable sources.
SDG 9  builds resilient infrastructure, promotes inclusive and sustainable industrialization, and fosters innovation. Lucy Group contributes to SDG 9 by designing innovative technologies that contribute to the industrial development and digitisation of smart cities while facilitating the delivery of decentralised power networks.
SDG 13 takes urgent action to combat climate change and its impacts. Lucy Group contributes to SDG 13 by taking decisive action in lowering our energy consumption and moving towards a low-carbon future by reducing our emissions to be carbon neutral by 2050.
Under new government plans to achieve net zero, all new cars will have to be electrified by 2030. The new EV installations will contribute towards improving air quality in towns and cities and help take care of our planet.
Take a look at our Sustainability and CSR section to find out more about the SDGs Lucy Group supports.