About Our Sustainability Program
Lucy Group Sustainability Program
Our Sustainability Program is at the heart of our commitment to making a meaningful difference in the world.  It is built upon three fundamental pillars: People, Planet, and Progress.  Each of these pillars represents a vital aspect of sustainability that guides our initiatives and strategies towards creating a better, more sustainable future for everyone.  Through this program, we address critical social, environmental, and economic challenges.  Our primary focus is promoting responsible business practices while fostering solid connections with our stakeholders.  Embracing sustainability principles allows us to impact society and work towards a more sustainable future positively.
People
Education & Training – Internal and External
Providing training and career development opportunities for all employees and nuturing education and experience opportunities in our local communities.
Health & Wellbeing
Providing a safe work environment that promotes the health and well-being of all actively participate in initiatives that improve the lives of those in our local communities.

At the heart of our Sustainability and Corporate Social Responsibility efforts is a strong commitment to support local communities and empower our employees.  We actively engage in local meaningful projects with the goal of creating positive change and leaving a lasting impact in the regions where we operate. Our employees take part in over 100 such initiatives each year, and we also contribute to various charitable causes to address broader societal issues and support cultural programmes.
We strongly believe in the transformative power of education and its ability to change lives.  Our active involvement in constructing and improving schools and orphanages aims to provide safe and conducive learning environments for children, students, and educators. To address the digital divide in underprivileged areas, we provide laptops to schools, opening up opportunities for a better future for all individuals.  In our commitment to youth empowerment, we offer mentoring programs, work experience weeks, interview preparation sessions, and apprenticeships in the UK.  Our vision is to expand these initiatives globally, supporting young minds worldwide.  Our efforts are centred on making education accessible and impactful, fostering a world where everyone has the opportunity to thrive through learning.
In addition to our commitment to education, we also extend our support where we are able local hospitals, homes for the elderly, specialist centres for the disabled and hospices. Our aim is to ensure the ongoing support for the most vulnerable in society. We give our staff 2 days personal volunteering a year so that they can take part in helping the community a way that its meaningful to them. We also take part in many local projects to improve our local environments worldwide from tree planting, to creating gardens, improving local biodiversity and supporting wildlife.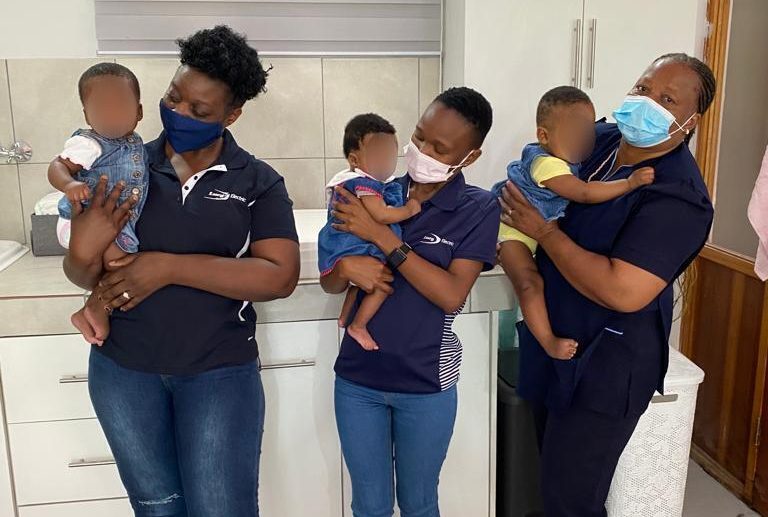 For more detailed information about our Corporate Social Responsibility (CSR) activities, we encourage everyone to visit our Sustainability and CSR News Page.  This platform provides regular updates on the progress of our initiatives, showcasing the positive changes we are making together with our stakeholders.
As much as our commitment lies with supporting local communities, we also recognise that our people are the driving force behind our businesses.  We value the well-being and personal development of our employees, understanding that their success is intertwined with the success of our organization.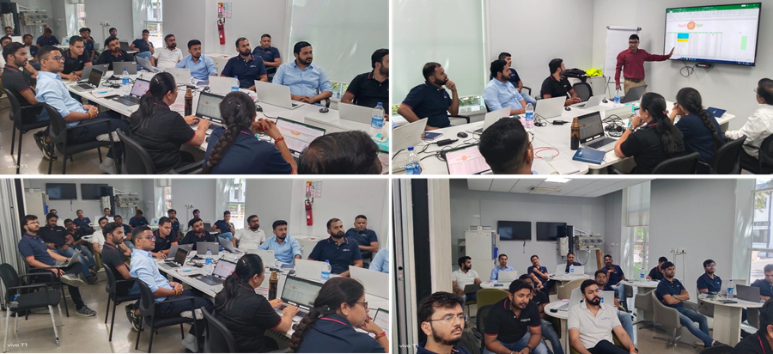 To nurture a supportive work environment, we have implemented various programs aimed at promoting staff well-being.  Our mental health first aiders are dedicated individuals trained to provide support and guidance to colleagues facing emotional challenges.  Additionally, we offer access to Health Assured, a resource that provides comprehensive mental health and well-being support for all staff members.
Furthermore, we believe in fostering growth and development among our employees.  To achieve this, we provide a range of internal and external training opportunities. Whether it's through workshops, seminars, or educational courses, we ensure that every team member has the chance to enhance their skills and unlock their full potential.
Planet
Emissions Targets and Reductions
Taking decisive action in lowering our energy consumption and moving towards a low-carbon future by reducing our emissions and following a science-based approach to be Net Zero by 2050.
Biodiversity
Developing areas to provide Bio-diversity Net Gain (BNG) and participate in community projects to raise awareness of climate issues to reduce environmental impact.
Waste
Implement waste management strategies to reduce waste, increase recycling and improve sustainability practices.

We have a strong commitment to reducing emissions and protecting the environment.  Through our Sustainability initiatives, we actively seek out innovative strategies and technologies to minimise our carbon footprint and adopt sustainable practices across all aspects of our operations. By setting ambitious emission reduction targets and adhering to strict environmental standards, we are determined to contribute to the fight against climate change and ensure the preservation of our planet for future generations.  We prioritise practical action and collaboration with stakeholders to implement eco-friendly solutions that have a tangible positive impact on the environment.
At the Group level, we have obtained the Carbon Reduce Certification from Achilles.  This certification reflects our commitment to measuring greenhouse gas emissions in compliance with ISO 14064 Part 1 2018.  This provides a  baseline from which we have established ambitious targets focusing on reducing emissions, conserving energy, and managing waste effectively.
The products offered by Lucy Electric, Lucy Zodion, and Lawson Fuses play a significant role in driving the transition towards a sustainable future.  They are essential components in the development of EV charging facilities, including the UK's solar-powered Park & Ride in Leeds.  Our photocells (Z Cell) are dedicated to improving energy efficiency.  Additionally, our Ki. smart city platform utilizes IoT technology to enhance resilience and bring benefits to all residents.
Within our property portfolio, we focus on future-proofed homes such as the Lucy Developments Halliday Lane properties.  These homes feature heat pumps for energy efficiency and enable EV charging, aligning with sustainability and technological advancements.  Our goal is to provide residents with eco-friendly, technologically advanced, and comfortable living spaces that set the standard for the future.
Reducing our emissions         
Installing solar panels at our head office in Oxford in July23.
Lucy Electric installed solar panels to its Thame facility, and Lucy Zodion followed in 2021 by installing 334 solar panel, which almost halved its power needs from the grid.  We are also looking at renewable energy suppliers in our countries of operation.
We are in the process of switching to energy-efficient lighting across our sites and improving manufacturing processes to enhance efficiency at a Group level.
We also aim to decarbonise transport both at our operations and our supply chain, and to achieve this goal, we have already started to move to electric maintenance vans as well as rolling out EV chargers across our locations.
Resource efficiency is also of high priority.  We are working on improving packaging recyclability, reducing the ratio of non-recyclable waste, and introducing strict zero-waste policies across the Group.  Within the UK, Lucy Electric and Lucy Zodion have already achieved zero-waste to landfill with other locations looking to collaborate in similar projects globally.
Across our investment property portfolio we aim to ensure all our new homes are carbon-neutral through eco-friendly design and build and are implementing a policy of installing EV charging facilities in our carparks. For Lucy Developments, all new schemes will have EV charging facilities and we continue to focus on renewable energy technology and ecological bio-diversity.
Our core markets within the electricity industry, already play a core part in transforming our economy to increase the share of renewables at energy generation as well the electrification of transport and infrastructure.  Products provided by Lucy Electric, Lucy Zodion and Flashnet are designed to work in harmony with the natural environment, such as our photocells (e.g. Z Cells), improving energy efficiency in street lighting.
We also actively support biodiversity projects, such as Lucy Electric planting of 500 trees local to our Thame site as part of the 21st Century Thame initiative.  In the vicinity of our properties, we have also set up bug hotels, bat boxes, hedgehog houses, a nest for swallows, as well as bee bricks, while in our international sites we support coral reef regeneration programmes.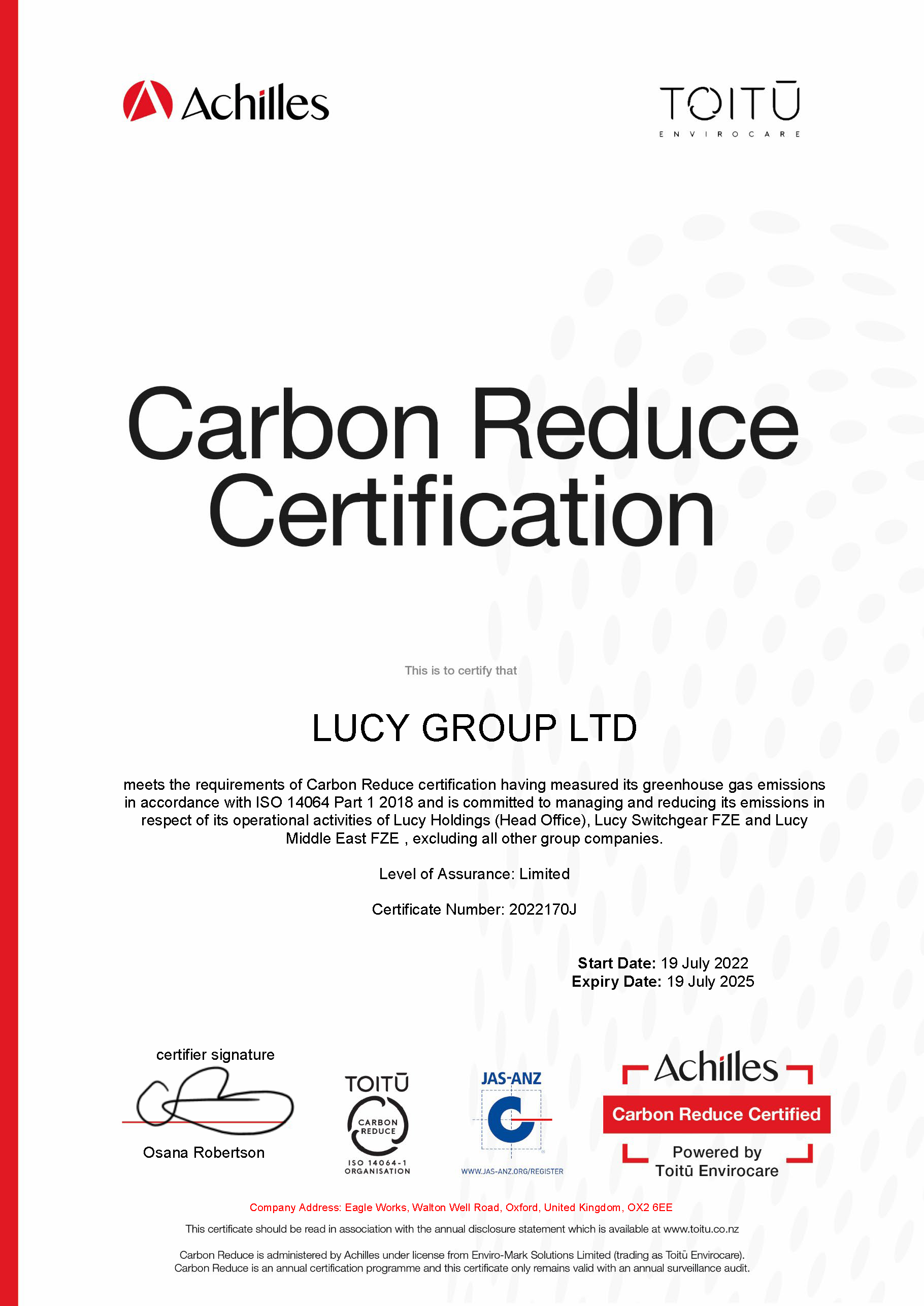 Progress
Products/ Assets/Customer
Design, promote and improve the energy efficiency of our products and properties, and establish the embedded carbon content in our main product lines while understanding our customers' sustainability needs and expectations.
Human Rights & Employment Practices
Committing to upholding Human Rights and fair employment practices for our employees and engaging with our supply chain.

We are currently examining the embodied carbon content of our products and planning to expand reporting to encompass broader categories within Scope 3 emissions. This initiative demonstrates our commitment to sustainability and a reduced carbon footprint. We aim to collaborate with stakeholders, gather data, and drive positive change within our industry to create a more sustainable future.
In all our subsidiaries and supply chains, we promote a culture of ethical behaviour and transparency and are committed to supporting our suppliers in establishing ethical and sustainable practices. We assess current and new and current suppliers against our MSA questionnaire, with compliance a requirement to gain approval.  We aim to build lasting relationships with our suppliers and their employees.  Our robust Supplier Code of Conduct with which we expect our suppliers to comply builds on our existing efforts to source responsibly and continue ethical business practices and integrity throughout our supply chain.
We are committed to creating an environment in which the individual differences and contributions of our staff are recognised and valued.  Furthermore, we are committed to eliminating discrimination.  Our aim is that the workforce will be truly representative of all sections of society and each employee feels respected and able to perform to their best ability.
What We Measure
Across all Lucy Group businesses, sustainable practices are embedded within our policies, management systems and certifications.  These include the monitoring and measuring of safety, environmental, quality and performance goals.   We continually seek methods of expanding our disclosures to enable a truly holistic approach to sustainable development reporting.  Sustainable outputs exist within our current management systems and practices will be incorporated into our broader framework to deliver long-term value, drive high levels of sustainable development and ensure continual improvement.
As part of our sustainability efforts and commitment to environmental responsibility, we have integrated carbon accounting software into our operations.  Through this, we gain a comprehensive understanding of the greenhouse gas emissions produced across various aspects of our businesses.  The software enables the capture of data, including energy consumption, transportation distances, waste management, and more.  We are then able to analyse this data, providing us with valuable insights into our carbon emissions and help identify areas where improvements can be made.
We disclose CO2 emissions voluntarily for Scope 1&2, along with the mandatory categories within Scope 3, as required by Carbon Reduce Certification.  At present, we are examining the embodied carbon content of our products and exploring options to expand our reporting to encompass broader categories within Scope 3.