The Lucy Electric (Thailand) factory was established in 2014. Located at Hemaraj Eastern Seaboard Industrial Estate, Rayong Province, Thailand, our aim is to expand the business to ASEAN region. The state-of-the-art factory is designed to produce up to 10,000 units annually to supply to the worldwide market.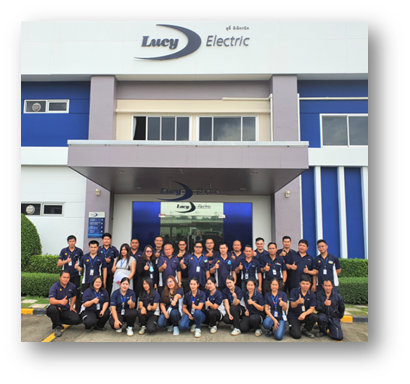 The original Thailand team
Lucy Electric Thailand started with a small team of 37 employees and we are very proud of the fact that many of these employees are still active employees of the Lucy Group. They continue to share their knowledge and expertise and use their skills so that Lucy Electric Thailand produces only the best products for its customers.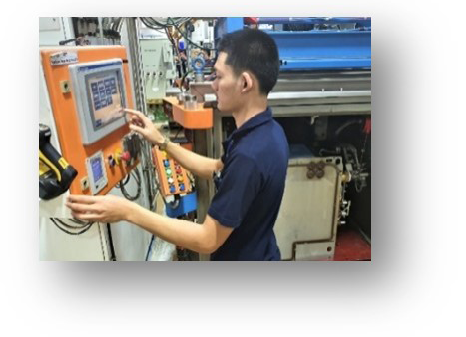 Lucy Electric Thailand started producing Aegis Ring Main Units (RMU) and GX overhead switches in 2015. These units can be seen installed in many locations in Thailand helping the Thai power companies provide electrical services reliably to their customers. Also, in 2015 production of the new Aegis Plus product began with our first production model going to Thailand's Metropolitan Electricity Authority.

Aegis Units
Lucy Electric Thailand has continued to increase knowledge, expertise, and self-sufficient inhouse manufacturing of products, utilising the following:
Robot welders for consistent control of weld quality.
Automated powder coating for high quality, durable product.
In house laser cutting for precision part fitment.
Program controlled break presses for repeatable precision forming.
Automated leak testing and gas installation equipment for strict prevention of gas loss and maintaining gas quality.
Currently, the factory in Rayong can produce and customize various functions of the Aegis Plus ring main units (up to 5 functions) based on customer requirements and needs.  We also produce Rapier GX Load Break Switch (up to 36kV) and Gemini 3 Remote Terminal Unit. Our Rayong factory supplies and exports to valued customers worldwide in the Middle East, Africa, South America, ASEAN countries and Oceania. We employ more than 150 employees locally.
Lucy Electric Thailand is proud to provide products and service to all our customers and strive to meet all our customers needs. Safety, quality, continuous improvement and development will drive the Rayong based factory forward. From all of us in Thailand, we look forward to what we can achieve in the next 5 years!
Bryan Bowman, Plant Director.
Plant Director, Lucy Electric Thailand
To see more Lucy Group news stories, take a look at our newsfeed.