About Our Sustainability Programme
Our Sustainability Priorities
As a Group, we are committed to enabling sustainable living through all our activities, including our everyday operations, products and services.
Our focus is three-fold:
Supporting our people as well as the communities in which we are present
Operating in a sustainable way to reduce our impact
Being committed to providing the tools for our stakeholders to prosper, in the form of our products and services, as well as encouraging ethical practices through our supply chain.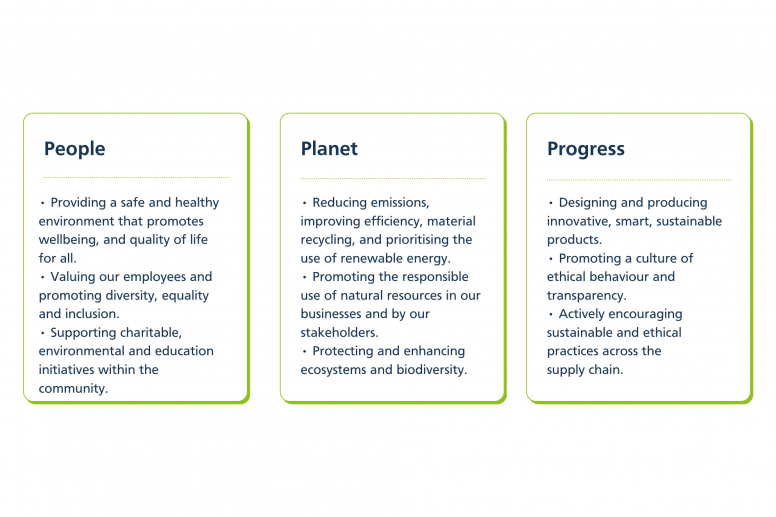 We have been involved in supporting local communities through numerous projects, including laptop donations, school construction and supporting hospices, in all locations in which we are present, including the UK, India, South Africa or Brazil, participating in 117 initiatives, and contributing to 59 charities. Read more about our CSR activities.
At Group level, we have started our certification journey to adopt ISO 14064-1, with extensive work currently taking place on quantifying and setting targets for our greenhouse gas (GHG) emissions. This certification will provide us with a strong baseline and will serve as our continuous improvement framework.
In terms of our offering, products by Lucy Electric, Lucy Zodion and Lawson Fuses already play a crucial role in the transition to a more sustainable future by enabling wider renewable energy generation, infrastructure development, including smart cities, and improved electrification of transport.
Our products are essential 'ingredients' of a growing number of EV charging facilities, including the UK's first solar-powered Park & Ride in Leeds, while our photocells (Z Cell) aim to improve energy efficiency. Lucy Electric have been supporting South African households with ring main units to smooth the transition to a generator-driven energy supply when needed, especially during recent power outages. In addition, our Ki. smart city platform, leverages the benefits of an IoT system to enable resilience for the benefit of all residents.
Within our property portfolio, we aim to develop future-proofed homes. As an example, Lucy Developments Halliday Lane properties features heat pumps and enable EV charging.
We aim to build lasting relationships with our suppliers and their employees. We are committed to working with them to build a sustainable business and provide long-term employment for their staff. Our robust Supplier Code of Conduct with which we expect our suppliers to comply builds on our existing efforts to source responsibly and continue ethical business practices and integrity throughout our supply chain.
What we measure
Across all Lucy Group businesses, sustainable practices are embedded within our policies, management systems and certifications.  These include the monitoring and measuring of safety, environmental, quality and performance goals.  We will be expanding our disclosures during 2022 to obtain a truly holistic approach to sustainable development.
We are committed to reducing our emissions and we voluntarily disclose CO2 information for Scope 1, 2 and 3 CO2 emissions across all Group locations. To date, Lucy Electric in the UK has already achieved Platinum status with Carbon Reduce Certification and is certified to 14064-1.
We are now implementing a carbon accounting system that will assist in identifying the data needed to measure and verify our greenhouse gas (GHG), inventory leading to ISO 14064-1 certification, and provide us with figures and generate targets across our 15 global locations by Q2 2022.
Sustainable outputs exist within our current management systems and practices will be incorporated into our broader framework to deliver long-term value, drive high levels of sustainable development and ensure continual improvement.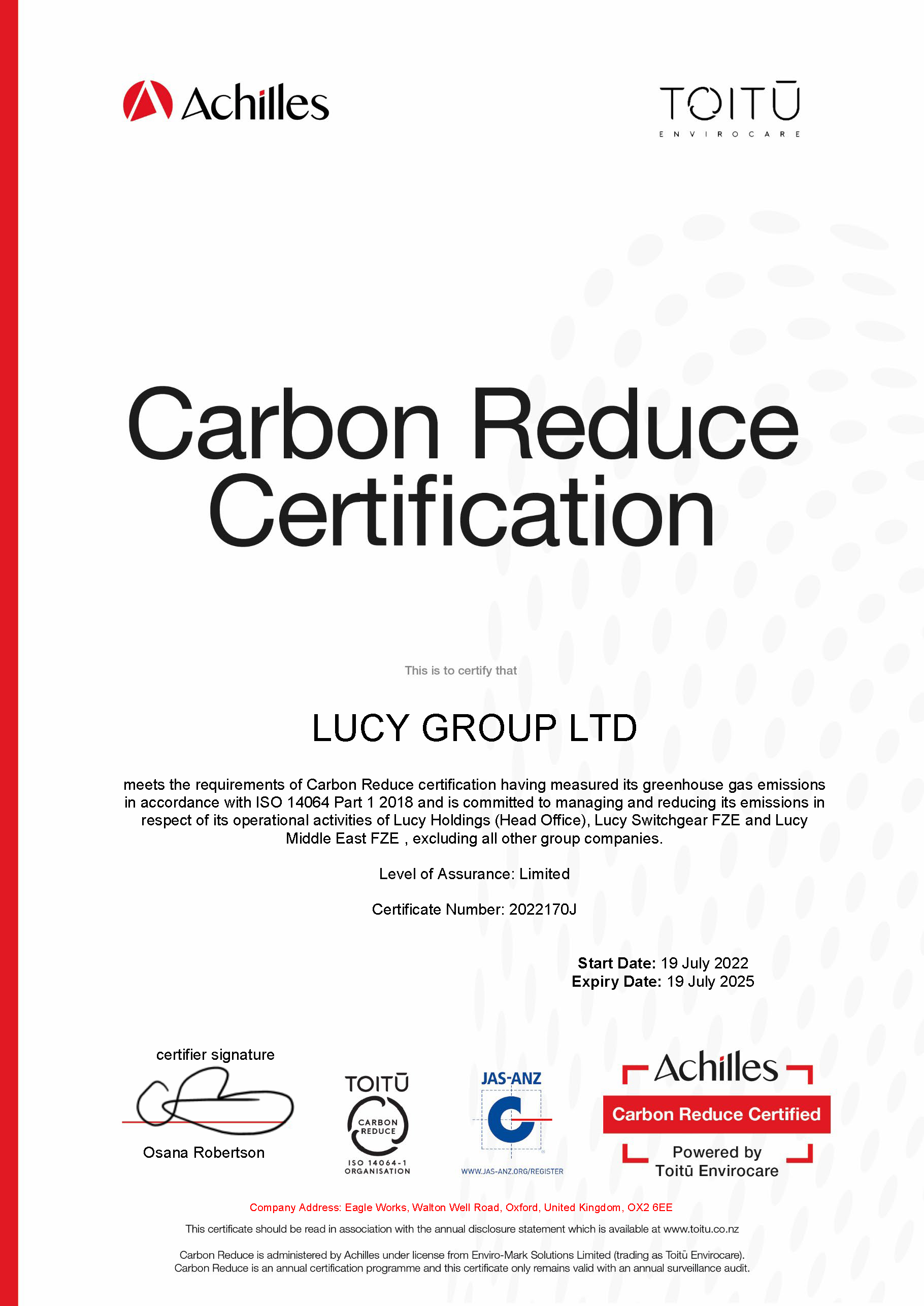 In addition, we plan to formalise the inclusion of environmental and social factors in our procurement processes so we can work with companies that reflect our commitments.
How we work to reduce our environmental impact
Our approach includes our whole value chain, from de-risking our supply chain, to the efficiency of our products in use. Some examples of how we are reducing our environmental impact include:
Lucy Electric installed solar panels to its Thame facility, and Lucy Zodion followed in 2021 by installing 334 solar panel, which almost halved its power needs from the grid.  We are also looking at renewable energy suppliers in our countries of operation.
We are in the process of switching to energy-efficient lighting across our sites and improving manufacturing processes to enhance efficiency at a Group level.
We also aim to decarbonise transport both at our operations and our supply chain, and to achieve this goal, we have already started to move to electric maintenance vans as well as rolling out EV chargers across our locations.
Resource efficiency is also of high priority. We are working on improving packaging recyclability, reducing the ratio of non-recyclable waste, and introducing strict zero-waste policies across the Group. Within the UK, Lucy Electric and Lucy Zodion have already achieved zero-waste to landfill with other locations looking to collaborate in similar projects globally.
Across our investment property portfolio we aim to ensure all our new homes are carbon-neutral through eco-friendly design and build and are implementing a policy of installing EV charging facilities in our carparks. For Lucy Developments, all new schemes will have EV charging facilities and we continue to focus on renewable energy technology and ecological bio-diversity.
Our core markets within the electricity industry, already play a core part in transforming our economy to increase the share of renewables at energy generation as well the electrification of transport and infrastructure. Products provided by Lucy Electric and Lucy Zodion are designed to work in harmony with the natural environment, such as our photocells (e.g. Z Cells), improving energy efficiency in street lighting.
We also actively support biodiversity projects, such as Lucy Electric planting of 500 trees local to our Thame site as part of the 21st Century Thame initiative. In the vicinity of our properties, we have also set up bug hotels, bat boxes, hedgehog houses, a nest for swallows, as well as bee bricks, while in Thailand we support coral reef regeneration programmes
Looking after our people
Our people are central to our businesses, and we continue to drive change and strengthen our support to all our employees.
At the core of this commitment is staff wellbeing. We have dedicated mental health first aiders as well as access to Health Assured for all staff.
To support our staff's continued personal development, we have obtained 1,000 LinkedIn learning licenses in 2021, resulting in over 500 employees completing 2,252 courses on the platform, amounting to 2,651 hours of training.  We also support the completion of professional development courses.
Being a global company, we also celebrate diversity. Lucy Electric in South Africa recently achieved top rating of level 1 in Broad Based Black Economic Empowerment (BBBEE).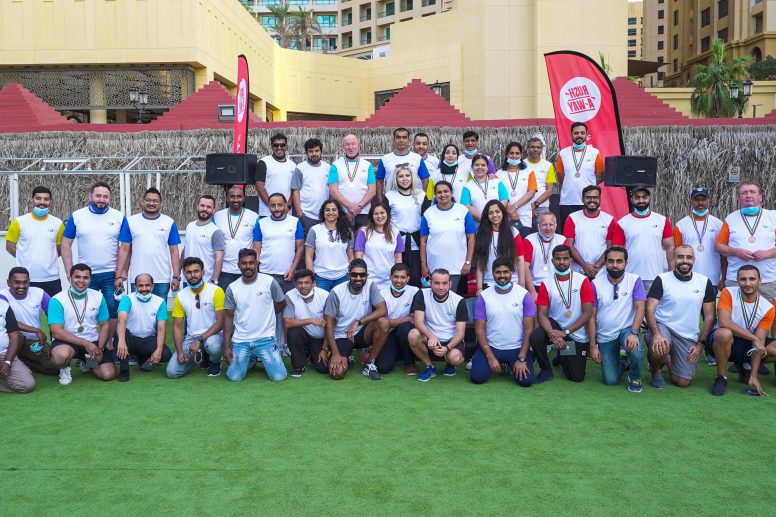 We are committed to creating an environment in which the individual differences and contributions of our staff are recognised and valued. Furthermore, we are committed to eliminating discrimination. Our aim is that the workforce will be truly representative of all sections of society and each employee feels respected and able to perform to their best ability.
With our global presence, we are committed to supporting local economies, not only through employment but also educational and environmental programmes. Globally, we have run 59 initiatives to support these communities.
In all our subsidiaries and supply chains, we promote a culture of ethical behaviour and transparency and are committed to supporting our suppliers in establishing ethical and sustainable practices. We assess current and new and current suppliers against our MSA questionnaire, with compliance a requirement to gain approval.
What opportunities does Lucy Group have to make a positive impact to society in the future?
In addition to the products and services supporting the transition to a more sustainable society, Lucy Group has also been supporting and undertaking community projects directly. We regularly engage local communities through fundraising, charity events, donations, and by supporting cultural programmes.
In 2021, we engaged in 117 programmes and supported initiatives all over the world, including a school re-build programme and meal donation for the elderly in India, through to blanket and clothes donations in South Africa and Brazil, just to mention a few of our most recent projects.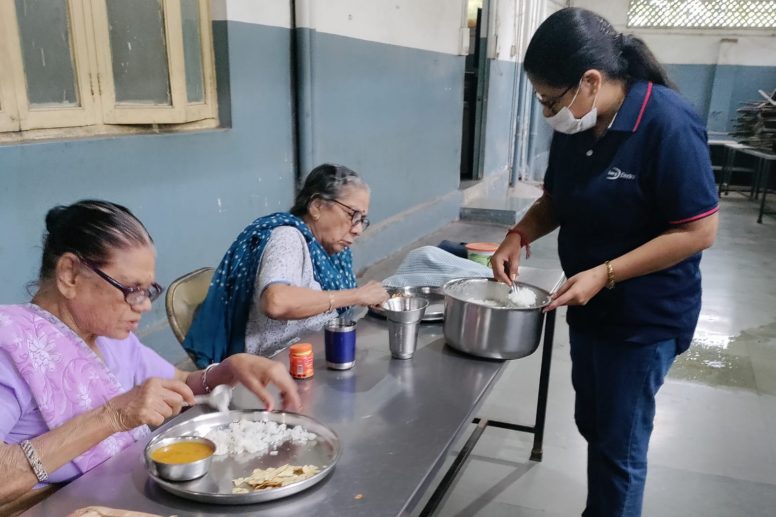 We are actively involved in the installation of public EV chargers across the UK, as well as enabling the creation of green spaces, across our property sites and collaboration with local organisations to improve biodiversity globally.
In terms of educational initiatives – we run mentoring programmes, work experience days, interview preparation sessions as well as apprenticeships, to support youth in the UK and hope to develop this on an international scale.